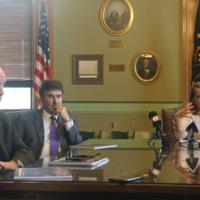 Indiana Supreme Court travels to Boone County | briefs
INDIANAPOLIS — Judge Steven David will come home this month for his final hearing as a member of the Indiana Supreme Court at Lebanon High School, in the county where his career as a judge began and has been where he has been for over two decades lives.
The court will hear arguments on June 30 James McCoy vs. Indiana State, a case involving legal advice and police searches. Specifically, it's about whether the police violated McCoy's rights under Pirtle v. Indiana.
A hearing en route is held sporadically to let Hoosiers, who may not live near the Statehouse, experience the court hearings, Kathryn Dolan, the court's chief public information officer, said in a press release.
David, who is currently the longest-serving Supreme Court Justice and announced last year he would retire this fall. He was a trial court judge in Boone County for 15 years before his 2010 appointment to the Indiana Supreme Court.
Before becoming a judge, David served in the Army for 28 years and practiced law in Columbus, Indiana.
"Justice David's deep commitment to our Hoosier justice system and tireless work aimed at upholding the rule of law and improving justice across the state," said Chief Justice Loretta Rush. "He will be greatly missed."