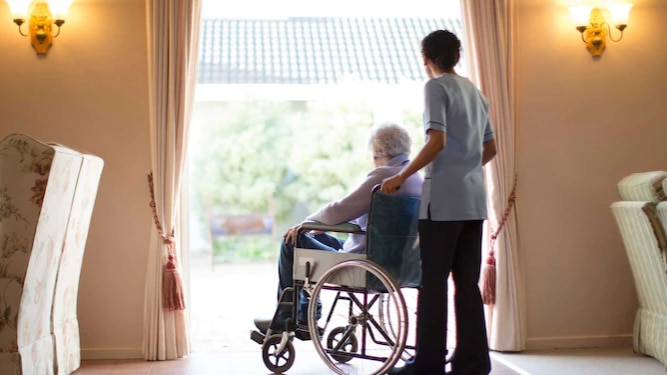 The Bendigo geriatric care expert criticizes the federal government's "ridiculous" bonus payment
A former aged care recruiter from Bendigo says wages in the sector urgently need to be raised instead of giving workers in the industry a cash bonus.
Core items:
Aged caregivers are to receive two payments of $400 each
A pro-elder care advocate in Bendigo says greater incentives would address labor shortages
There are concerns that rural and regional areas will soon face major staffing problems
Prime Minister Scott Morrison announced yesterday that nursing staff will have access to two bonus payments of up to $400 each as part of a $209 million package.
The first payment will be made this month and the second in May pro rata based on hours worked.
Almost half of Australia's aged care facilities are battling COVID-19 outbreaks.
Kevin Pittman, who is studying for a masters in rural elderly care, believes long-term financial incentives are needed.
"It would be an extra $200 a week; [that is] better than a one-time payment.
"The government has until July to tell the Fair Works Commission if they are willing to fund this, but at the moment it doesn't look very promising."
Opposition spokeswoman for older Australians and aged care Clare O'Neill agreed that greater financial incentives for workers were needed.
She said the Omicron outbreak has brought the sector to its knees and staff have come under pressure as many workers are furloughed.
"You can understand that geriatric nurses are quite upset about the two-month pay that will add up to less than a dollar an hour on top of their normal wages [and not] will be compensated in some way for what they are doing at the moment."
Regional areas under pressure
Mr Pittman fears the system could collapse further, particularly in rural areas, unless more stimulus is introduced soon.
"If you look at the rural areas, the labor force has peaked. The population is older and worse off than city dwellers.
"If we add we are looking for more disability workers and more aged care workers to deliver the 80,000 home care packages that the government has committed to, we just don't have enough people in rural areas.
Mr Pittman is now calling for an industry overhaul.
"We need to attract more people to the industry. We need young people, we need employees who get more study opportunities and build career structures to attract them," he said.
"Paying alone is important, but it's not the only piece of the puzzle."